How can I recover photos
accidentally deleted from SD card free of charge? Read this article and you can
find the answer. Recovering deleted photos from SD memory card can be completed
via very simple steps: connect SD card to computer, scan it using free recovery
software, preview and recover photos.
"How can I undelete photos from SD card? I just made a huge mistake. I cut all files from SD card and paste them to computer local hard drive. However, there was a sudden power cut, after which most files disappeared. It seemed that those invisible got deleted from the SD card. I did not do anything after data loss. Lost files are mostly photos taken these days. I know there are ways to undelete / restore photos from SD card. Please let me know how to do that."
Is it possible to recover
photos accidentally deleted from SD card? Yes! When you delete a file, system
does not wipe it immediately. Instead, system just modifies file record and
marks disk space occupied by deleted photos as Free, so that delete files are
no longer visible and the said disk space can be reused again. As long as the
free disk space is not stored new data, you have chances to get back deleted
files. The key point of achieving a successful photo recovery or SD card
recovery is stop using the SD card and avoid any possible data overwrite.
Method 1:
recover accidentally deleted photos from SD card without software
It is not always necessary to
use a SD card photo recovery program to get back deleted photos. How can I
recover deleted photos from my SD card without any recovery software?
The precondition of
recovering deleted or lost files without software is that you should have
backups for lost data. If you attach enough importance to data backup, you
might have created backups for important files, for example, upload files to cloud
drives (Dropbox, Google Drive, OneDrive, Amazon drive, etc.), copy files to
multiple storage devices, etc.
Retrieving lost files from
backups without any recovery software will be the best and optimal solution,
and thus all of us should form the habit of backing up data regularly.
Method 2:
recover deleted photos from SD memory card using free recovery software
When it comes to the best free program to recover deleted photos from SD card, we'd like to recommend Eassos Recovery Free. Windows users can take advantage of this freeware to restore deleted, lost or formatted photos from SD memory card, internal or external hard drive, USB flash drive, etc. The free edition supports to search lost photos and preview recoverable files as well as copy up to 1GB files free of charge. Thus, you do not have to upgrade to the Full edition if you do not need to recover too many photos. Now follow these steps to recover accidentally deleted photos from SD memory card in Windows 10/8/7/XP.
Step 1: Attach the memory card to
computer.
The SD memory card might be
used on your camera or phone, and you need to connect the SD card to computer
before the recovery. If the SD card cannot be detected by computer via
phone/camera USB cable, you will need to connect the SD card with a card
reader.
Step 2: Run Eassos Recovery on your
PC and choose a proper recovery option.
After launching the freeware,
you will see 4 recovery options on the home interface. Choose the one which is
suitable for your data loss issue.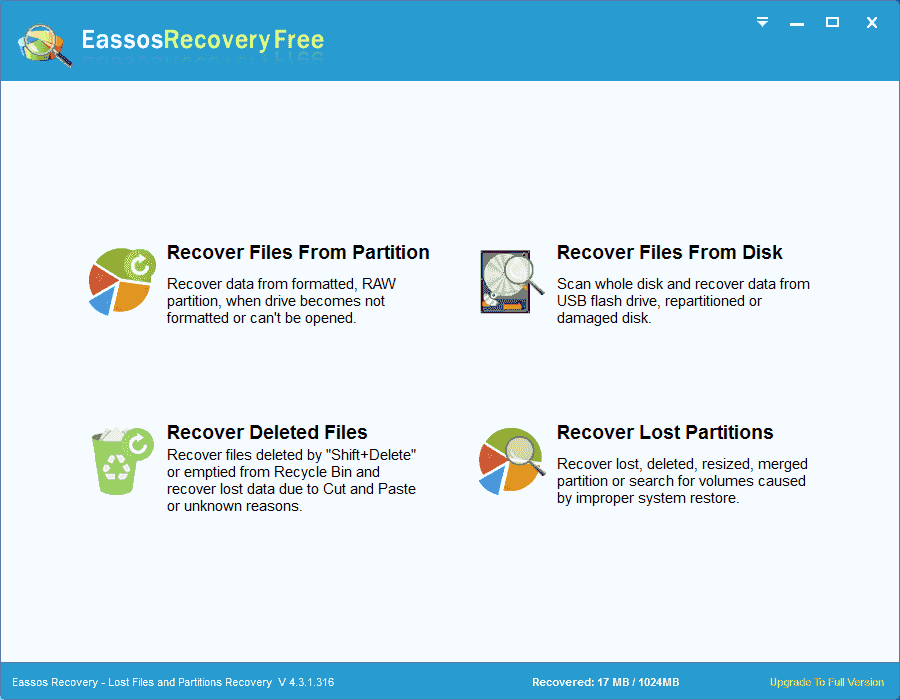 Step 3: Select the SD card and
click Next button to scan it for lost photos.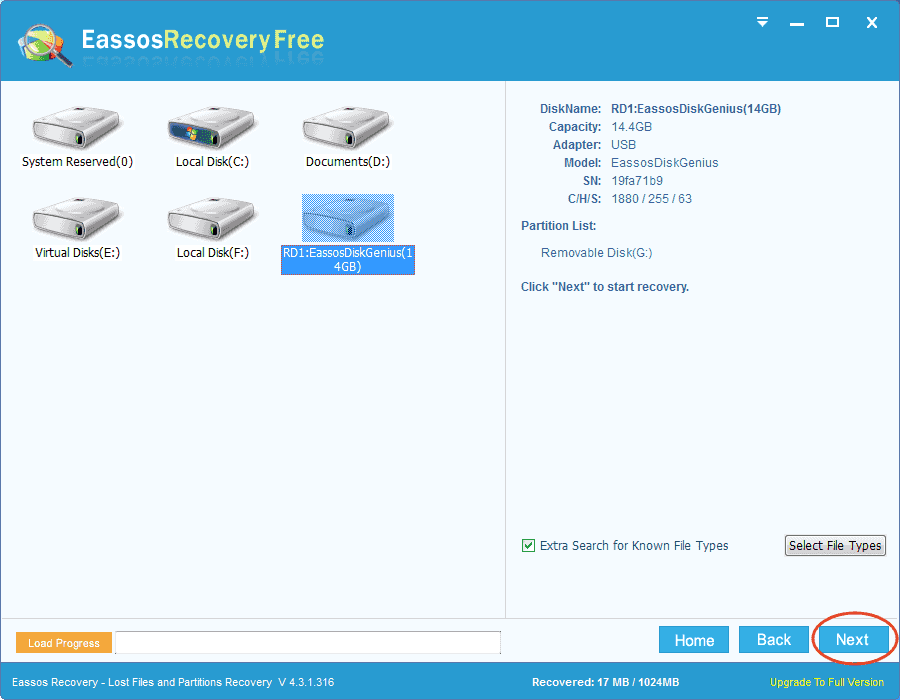 Step 4: Preview and restore lost
photos and other data from SD card.
You can double-click a photo listed in the software to see if it is corrupted and check if it is the one you need to restore.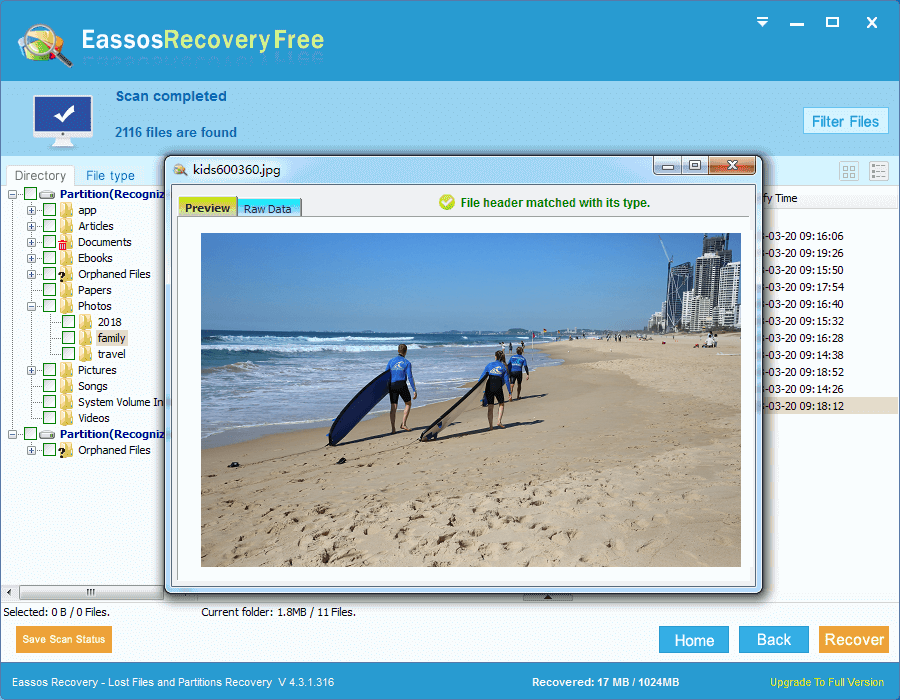 Choose all photos you want and click Recover button to save selected photos onto another drive.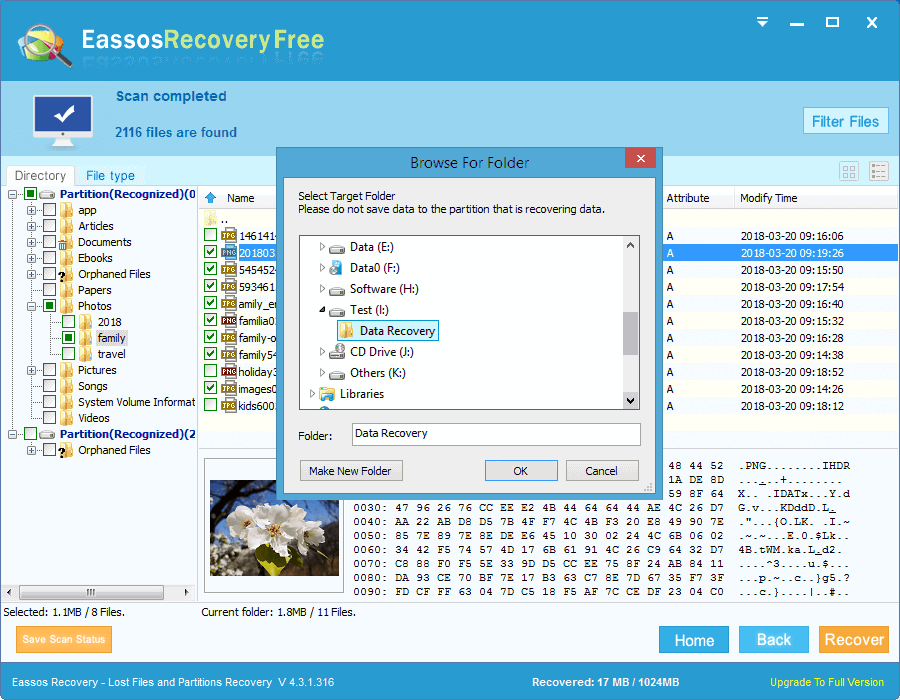 Q1: How do I
recover lost photos from a SanDisk SD card?
Follow these steps to recover
lost SanDisk photos:
Connect your SanDisk SD card
to PC and launch Eassos Recovery Free.
Select a proper recovery
option and scan your SanDisk card.
Double click one of those
recoverable photos to preview and locate what you want to recover.
Choose files and click
Recover button, and you can copy them to another place.
Q2: Can I
recover deleted photos from my SD card on my phone?
Yes. Eassos Recovery Free
supports to recover photos from SD cards, and you can connect the SD card and
start the recovery. You can either connect the phone to PC via USB cables or
connect SD card via a card reader. After that, Eassos Recovery Free will be
able to recognize the SD card and scan it for deleted photos and other files.
Q3: How can I
recover deleted photos and videos from memory card?
Here are steps you can follow
to recover deleted or lost photos and videos:
Connect your memory card to a
Windows computer and let it be detected by system.
Free download, install and
run Eassos Recovery Free on your PC.
Select the function Recover
Deleted Files to scan the memory card.
After scanning, you can view
recoverable files and copy them to a safe place.
Now the guide to recover
photos accidentally deleted from SD card comes to an end and hope it can help
you get rid of such issues easily. Feel free to share this article on your
social communities if you find it useful. You can tell us your experience,
doubts, suggestions or questions about the topic via email.